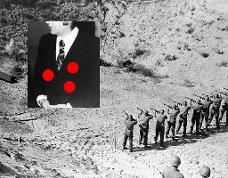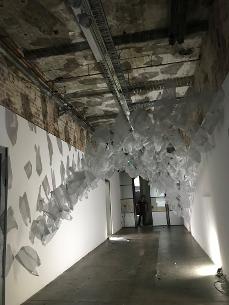 THE END/FUTURE OF HISTORY
Date: 01 Nov 2019- 14 Doc 2019
Venue: THE SUBSTATION, 1 MARKET STREET, NEWPORT VIC 3015
Artists: Hoda Ashfar, Lara Chamas, Yu Fang Chi, Katayoun Javan, James Nguyen,
Sha Sawari, Cyrus Tang, and Truc Truong.

Presented by The SUBSTATION, Hyphenated Projects and Due West Arts Festival.

Curated by Phuong Ngo

In The End/Future of History, contemporary artists examine how rights are administered in an international system that has been dominated by western ideology. A fundamental flaw exists with the administering of rights. It is a system where the guarantor is almost always the key violator.

This exhibition brings together a number of contemporary artists examining this very flaw within systems of government. They call to question the ability of governments in fulfilling the needs of people when presented with conflicting demands.

https://thesubstation.org.au/whats-on/the-end-slash-future-of-history/
GALLERY OPENING HOURS: TUESDAY TO SATURDAY 11AM–5PM
Image: Yu Fang Chi, Remnant II, 2019, synthetic fiber, monofilament nylon thread, dimensions variable.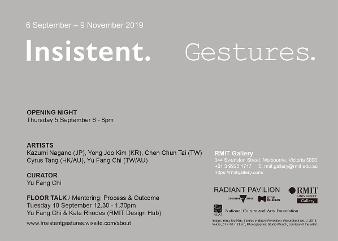 Insistent. Gestures.
CONTEMPORARY ARTISTS EXAMINING FLAWS WITHIN SYSTEMS OF GOVERNMENT.
Date: 06 Sep 2019-09 Nov 2019
Venue: RMIT Gallery, 344 Swanston Street, Melbourne
Artists: Kazumi Nagano (JP), Yong Joo Kim (KR), Chen Chun Tai (TW),
Cyrus Tang (HK/AU), Yu Fang Chi (TW/AU)
Curated by Yu Fang Chi
Insistent. Gestures. brings together the work of five artists who live, work or were born in Asia to explore personal narratives, diasporic identity and the use of repetition.

The exhibition considers the role of materials, bodily gestures and the intimate experience of making. These artists share related geographical histories and connections that respond to their stories and experience of making. Through repetitive cutting, assembling, sewing, weaving, and layering the simple materials chosen by each artist grow in complexity. The constant movement central to each artist's process gives rise to the contemplation of time and space, and an introspective understanding of body and mind

The repetitive movements – or insistent gestures – of making carry a sense of ritual and intimate recollection that resonates with the artists' personal histories. Here an insistent, female and labour creating subjectivity is woven into being.
https://insistentgestures.wixsite.com/about
http://www.radiantpavilion.com.au/insistent-gestures.html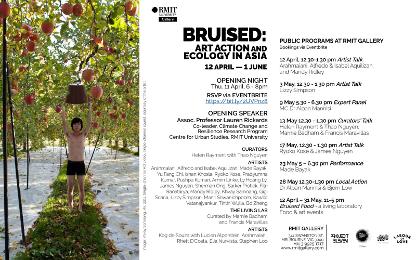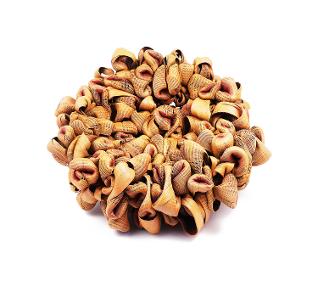 2017 Diana Morgan RMIT Postgraduate Gold and Silversmithing Prize
Yu Fang Chi, Inner Crease, object, 2017, copper, metallic car paint, thread, steel wire, crocheting, electroforming, painting, 28 x 28 x 15 cm. Photo: Cheng Lin Wu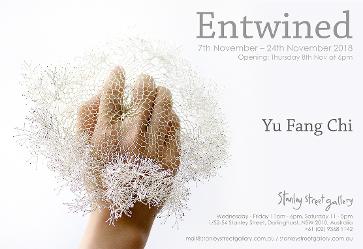 Entwined: Yu Fang Chi Solo Exhibition

7th November – 24th November 2018
Opening: Thursday 8th November at 6pm
Stanley Street Gallery, Sydney, Australia

Wednesday - Friday 11am - 6pm, Saturday 11 - 5pm
1/52-54 Stanley Street, Darlinghurst, NSW 2010, Australia
+61 (02) 9368 1142
mail@stanleystreetgallery.com.au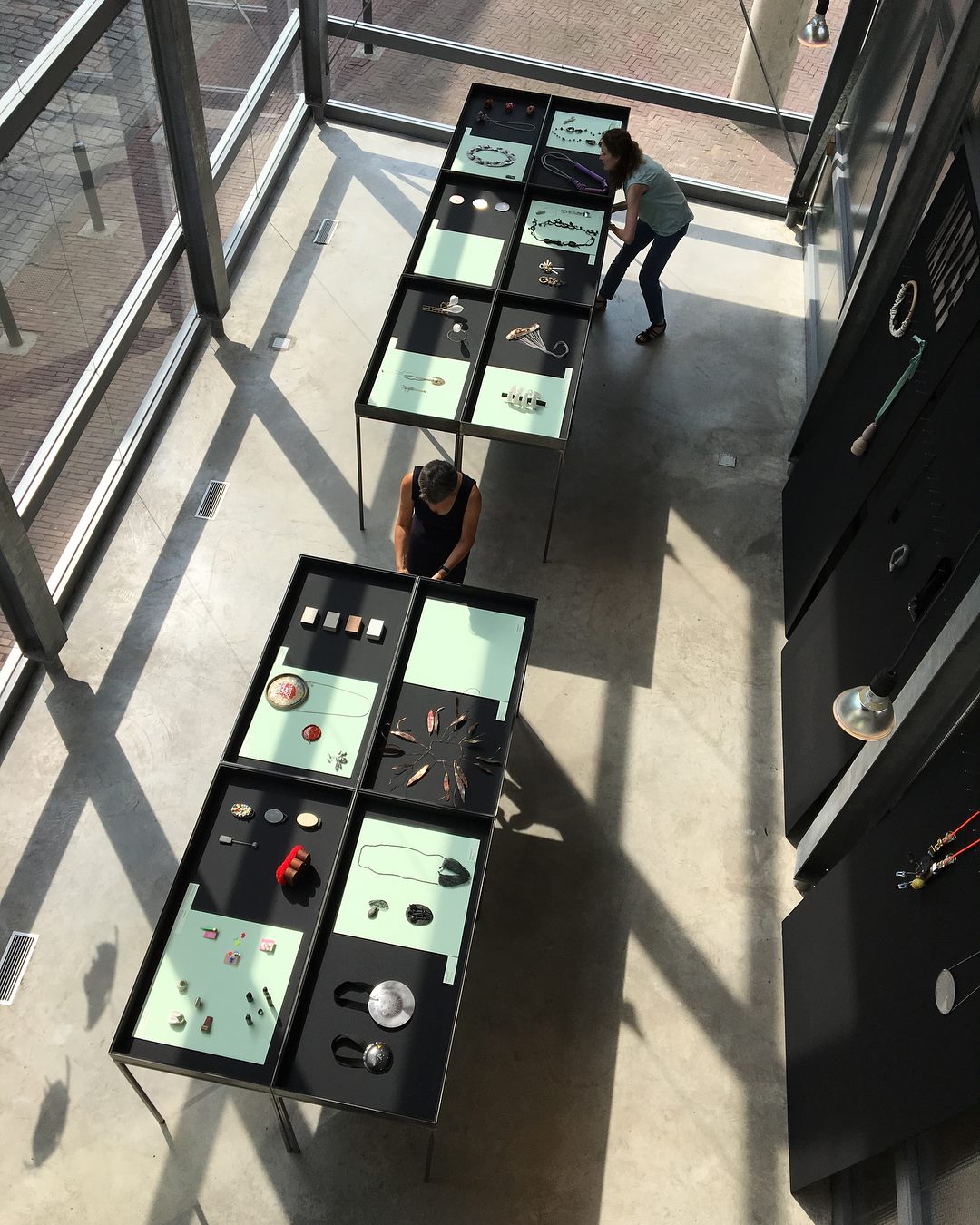 The 32nd Marzee International Graduation Show
Date: 19 August until 31 October 2018 at Galerie Marzee – opening Sunday 19 August at 4 pm
Location: Galerie
Marzee,
Lage Markt 3, 6511 VK Nijmegen, The Netherlands
Inner Crease series received a Marzee Graduate Prize 2018
Yu Fang Chi
Inner Crease
brooch; copper, metallic car paint, thread, steel wire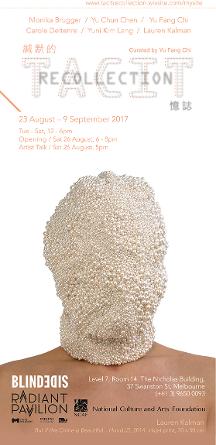 Image caption: Lauren Kalman, But if the Crime is Beautiful
...Hood (2), 2014, inkjet print, 70 x 50 cm. ©Lauren Kalman
TACIT RECOLLECTION

Monika Brugger(Germany), Yu Chun Chen(Taiwan), Yu Fang Chi(Taiwan), Carole Deltenre(France), Yuni Kim Lang(South Korea), Lauren Kalman(United States)
23 August – 9 September Tue–Sat 12–6pm
BLINDSIDE Level 7, Room 14, The Nicholas Building, 37 Swanston St, Melbourne
Tacit Recollection engages object and jewellery artists who reflect on the relation of body and external world. Works on exhibition are intimate responses to the 'uncertain' body circumstances of each artist, evoking a sense of fragility, sensuality, transparency and intuition.

Notions of ambiguous identity, voicelessness and introspection are engaged via each artist's processes of making. Their artwork tends to evoke the sensation of touch in the viewer and the wearer.
Curated by Yu Fang Chi
Exhibition Essay & Gallery Website:http://www.blindside.org.au/tacit-recollection
Article: Bodies and Jewellery in Tacit Recollection by Elizabeth M. Grierson
Event Website: http://tacitrecollection.wixsite.com/mysite
This exhibition is presented as part of the 2017 Melbourne Contemporary Jewellery and Object Trail, Radiant Pavilion, 26 August – 3 September, 2017.

18th Silver Triennial International
06.11.2016 - 15.01.2017
Location: Deutsches Goldschmiedehaus
http://www.goldschmiedehaus.com/en/18-silbertriennale-international
Following the presentation in Hanau, the exhibition will travel to:
Jan. 26 – Apr. 9, 2017: Museum voor Edelsmeedkunst, Juwelen en Diamant, Antwerp (B)
Apr. 23 – July 2, 2017: Silberwarenmuseum Ott-Pausersche Fabrik, Schwäbisch Gmünd
July 23 – Oct. 1, 2017: Robbe & Berking Yachting Heritage Centre, Flensburg
Oct. 29 – Jan. 21, 2018: Museum Zons, Dormagen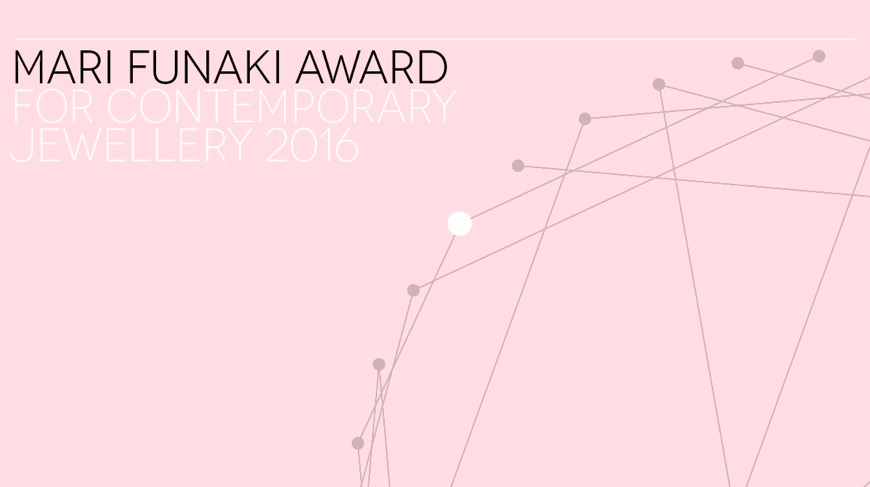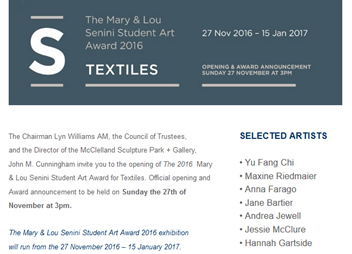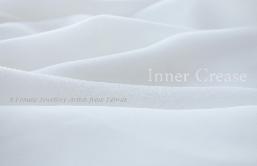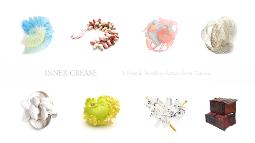 Radiant Pavilion—Melbourne Contemporary Jewellery and Object Trail 1 - 6 September 2015
Melbourne Fringe Festival 16 September – 4 October 2015
http://www.melbournefringe.com.au/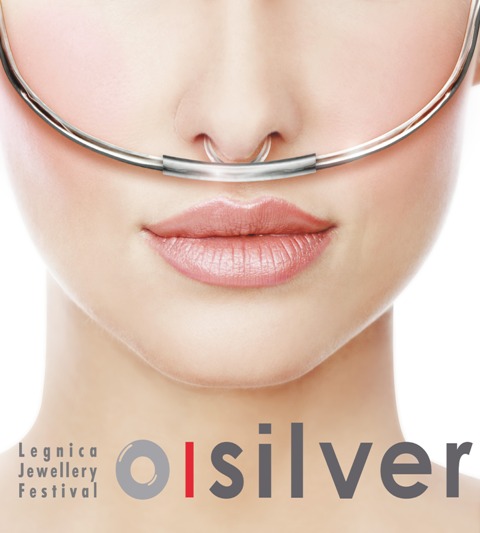 24th International Legnica Jewellery Competition BOUNDARIES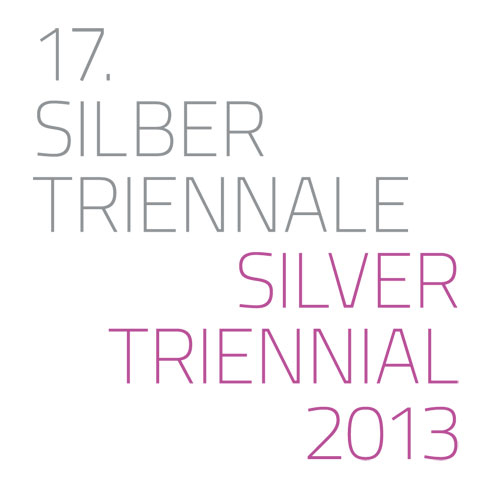 2013 The 17th Silver Triennial International Competition


Deutsches Goldschmiedehaus
Hanau

Apr 14 - Jun 09, 2013 The Deutsches Goldschmiedehaus (Hanau, Germany)
June 22 – August 28, 2013 National Museum of Decorative Arts in Trondheim (Norway)
September 15 – November 10, 2013 Silberwarenmuseum Ott-Pausersche Fabrik in Schwäbisch Gmünd November 22, 2013 – February 2, 2014 Deutsches Klingenmuseum in Solingen
February 7 – 11, 2014 Messe Ambiente in Frankfurt
February 14 – 17, 2014 Messe Inhorgenta in Munich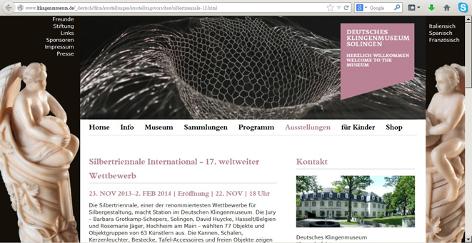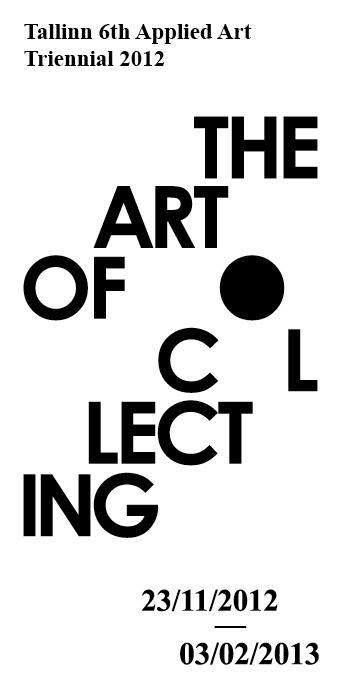 The 6th Tallinn Applied Art Triennial 2012
The triennial's current theme "The Art of Collecting" has been developed by the Swedish curator and art critic Love Jönsson who has focused on analysing international design and applied arts. The theme inspires artists to present all kinds of different approaches to collecting. The triennial received applications from 515 artists from 43 countries. The jury has selected 73 artists from 22 countries to present their works at the main exhibition.