Insistent. Gestures.
Date: 06 Sep 2019-09 Nov 2019
Venue: RMIT Gallery, 344 Swanston Street, Melbourne
Artists: Kazumi Nagano (JP), Yong Joo Kim (KR), Chen Chun Tai (TW),
Cyrus Tang (HK/AU), Yu Fang Chi (TW/AU)
Curated by Yu Fang Chi
Insistent. Gestures. brings together the work of five artists who live, work or were born in Asia to explore personal narratives, diasporic identity and the use of repetition.

The exhibition considers the role of materials, bodily gestures and the intimate experience of making. These artists share related geographical histories and connections that respond to their stories and experience of making. Through repetitive cutting, assembling, sewing, weaving, and layering the simple materials chosen by each artist grow in complexity. The constant movement central to each artist's process gives rise to the contemplation of time and space, and an introspective understanding of body and mind

The repetitive movements – or insistent gestures – of making carry a sense of ritual and intimate recollection that resonates with the artists' personal histories. Here an insistent, female and labour creating subjectivity is woven into being.
https://insistentgestures.wixsite.com/about
http://www.radiantpavilion.com.au/insistent-gestures.html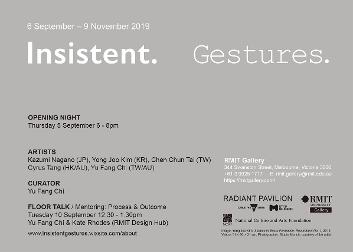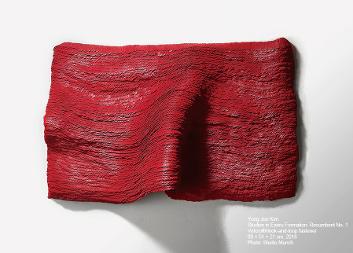 TACIT RECOLLECTION

Monika Brugger(Germany), Yu Chun Chen(Taiwan), Yu Fang Chi(Taiwan), Carole Deltenre(France), Yuni Kim Lang(South Korea), Lauren Kalman(United States)
23 August – 9 September Tue–Sat 12–6pm
BLINDSIDE Level 7, Room 14, The Nicholas Building, 37 Swanston St, Melbourne
Tacit Recollection engages object and jewellery artists who reflect on the relation of body and external world. Works on exhibition are intimate responses to the 'uncertain' body circumstances of each artist, evoking a sense of fragility, sensuality, transparency and intuition.

Notions of ambiguous identity, voicelessness and introspection are engaged via each artist's processes of making. Their artwork tends to evoke the sensation of touch in the viewer and the wearer.
Curated by Yu Fang Chi

This exhibition is presented as part of the 2017 Melbourne Contemporary Jewellery and Object Trail, Radiant Pavilion, 26 August – 3 September, 2017. http://www.radiantpavilion.com.au/tacit-recollection.html
Catalogue image caption: Lauren Kalman, But if the Crime is Beautiful... Hood (2), 2014, inkjet print, 70 x 50 cm. © Lauren Kalman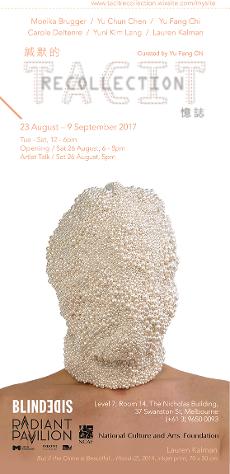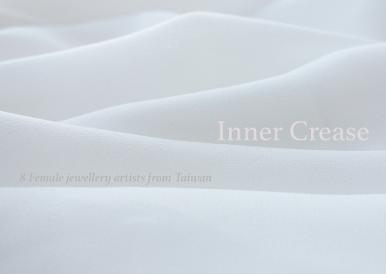 Inner Crease 8 Female jewellery artists from Taiwan
1st September - 3rd October, 2015
Upstairs at the Napier Gallery
210 Napier St, Fitzroy, Melbourne, Victoria, 3065.
Artists / Ying-Hsiu CHEN, Yu-Fang CHI, Yung-Huei CHAO, Ying-Hsun HSU,
Jiun-You OU, Cai-Xuan WU, Shu-Lin WU, Wen-Miao YEH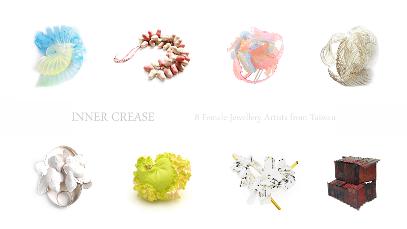 'Inner Crease' is a group exhibition of 8 Taiwanese female Jewellery artists. The title evokes ideas of fragility, sensuality, transparency and intuition. The works of all eight artists are an intimate feminine response illustrating their views of the body and external world. 'Inner Crease' promotes a dialogue, which aims to create a varied, indefinite and fluid platform for our jewellery to be touched, perceived and appreciated.
Through the making of art jewellery and the experience of materials, we try to introspect the process of creation and the position and reflection of the body on our art jewellery. In this exhibition we will apply the poetic imagery from our own studio practice and try to find similar ways to share our experiences through the physical processes of making and the act of wearing.